Silent Service, a game about....love?
Some of you may wonder why I'm not continuing my discussion of Star Voyager. To that I say: Well wah wah waaaah. Why don't you write your OWN blog entry tearing Star Voyager a new one!
Actually, the thing with games like Star Voyager is for the most part, they're slow paced. Warp to planet, find nothing, warp to planet, find nothing, gas up, warp to planet, find nothing, warp to planet, warp into black hole, repeat.
So needless to say you could only write so much about a basic, slow game. But I'll probably find more to bitch about this next title:
AAAH! AN ULTRA GAME! RUN FOR YOUR LIVES!
Yes, the dreaded logo of the Konami/Nintendo bastard love child, Ultra Games. For the stupid, Ultra Games was a subsidiary of Konami, who created games to get around Nintendo of America's "quality control" regulations. See, to avoid the crappy game influx that caused the video game crash in the early eighties, NoA thought "Hey, what if we Nazi the market and make it so third party companies can only release five games a year for our system? Then in theory, the games won't suck so hard! Muahahaha!" And since Konami was churning out games way faster than that for the Famicom, they made Ultra Games to make their other games.
Why and how Nintendo Nazi'd the market is a story for another day, so stop whining.
ANYWAY, where was I? Oh yes.
AAAH! AN ULTRA GAME! RUN FOR YOUR LIVES!
Silent Service is a game originally created by MicroProse for the PC. Ultra Games ported the game to the NES.
Silent Service is a game about the US Pacific Submarine Force in WW2, which was also nicknamed "Silent Service". Basically this game is all about blowing up Japanese boats, which is kind of ironic seeing as a Japanese developer handled this port. Did they ever ask themselves during the development, "Is it right of us to deal with a game that encourages the player to destroy the war efforts of my homeland?" And again, because this was not spoken in Japanese, the developer was executed.
Right, so, let's hit the start button...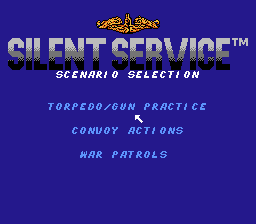 Wow, three types of elements!
Well, since I'm not prepared to be raped by a squadron of Japanese Destroyers, I think I'll go with the practice option.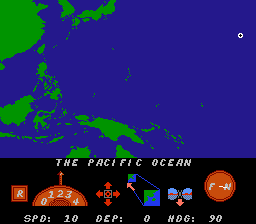 Well, that's descriptive.
Y'know, I think I'm gonna hit this button that looks like a zoom feature.
Hmm, that's a little bit better. I am now off the coast of some godforsaken island that looks like Alf getting fucked in the ass. Now it doesn't seem like I can proceed with the killing of unmanned boats from this menu, so let's hit select-...
Hey, it's Ed Rooney!
Why is there only one guy in this submarine? And why isn't he dressed for the occasion? Now I've seen
Down Periscope
and
The Hunt for Red October
countless times, but I don't think you can effectively pilot a submarine with
ONE PERSON
.
I can see it now, just like a horrible SNL skit. The guy'll be standing at the periscope, then scream "TORPEDO CLOSING!". Then the guy will run over to the map part and say "200 METRES AND CLOSING!" Then he'll run back to the periscope just as he gets hit and screams "AAAAH!!!! DIRECT HIT! DAMAGE REPORTS!" Then he'll run down into that little hatch, look around, and say towards the periscope, "DECKS FOUR AND FIVE ARE FLOODING SIR!" Then he'll run
BACK
to the periscope and yell "I CAN'T HEAR YOU!" and basically all stupid chaos ensues until he manages to tell himself that the boat is sinking, and then individually tells every one of his apparent split-personality crew members to ABANDON SHIP!
In the Navy. ANYWAY, as Franz Liekband would say,
"This is no good, I'm not killing anybody!"
. Let's look through the periscope.
Tank her? I don't even know her! -Rimshot-
A fake Japanese tanker! Presumably carrying rice balls and other stereotypical Japanese food for the war effort! Let's close in on it. -Runs over to the map chair-
AYE SIR!ALL STOP! SILENT RUNNING!
And now, to recreate the Falklands.
The worst rice-related environmental disaster in history.
The sad part? That's about as fast as the torpedos went.
HAHAHA, TAKE THAT YOU EMPTY DEFENSELESS JAPANESE SHIPS! Let's close in on another one.
[At Periscope] SLOW DOWN, YOU'RE APPROACHING TOO FAST!
-Runs over to map-
[At Map] Why do you keep telling ME to slow the boat down? It's the guy at the guages who handles that!
-Runs to the periscope-
[At Periscope] Why didn't anybody tell me I was making an idiot of myself?
-Runs to the damage hole
[At Damage Control] We didn't want to embarass you sir!
-Ship begins shaking violently
.
Runs to periscope
-
SHIT!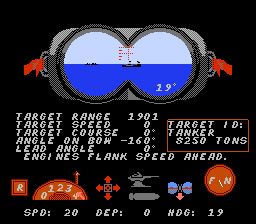 And as I sit here, watching myself argue with myself, I'm left to wonder...where did the system fail?